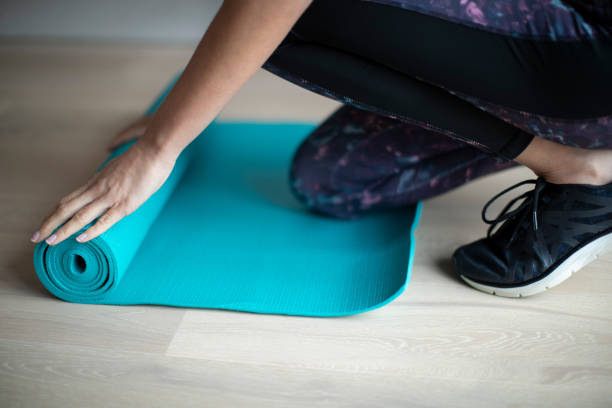 Pilates Classes via Zoom
We now offer live 45-minute online pilates classes. We decided to introduce these as a result of the coronavirus outbreak as a way of keeping people active whilst they are having to either self-isolate or work from home.
How does it work?
We use Zoom video conferencing for our online live sessions. Once you have scheduled an appointment you will receive a link by email. Five minutes before your lesson begins simple click the link to enter the meeting. If we are not there yet, don't worry, we will join shortly. We will walk you through a 45-minute Pilates lesson on your mat. It's that simple! You get the benefits of a private, structured lesson from the comfort of your home. Please be sure to read our set-up & troubleshooting guide below prior to your first lesson. This will ensure we get to maximize our time together focusing on your movement goals.
You can access zoom from your computer OR download the free app to access on your smartphone or tablet.
Step 1: Set up your space
Grab a mat or a towel. It would be better to have extra thickness for any of the exercises where you will be rolling on your spine.
Find a quiet location & turn up the lights. Lighting will make it easier for us to see & correct you as you move.
Please place your computer, smartphone, or tablet far enough away that we can see your whole body. Please ensure it is on a stable surface.
Step 2: Set up your technology
We will be using zoom video conferencing for our live private sessions.
Be sure to download the plugin (on your computer) or the app (smartphone or tablet) prior to our first lesson.
After you book your appointment you will receive an email with a link.
Five minutes before your lesson begins simple click on the link to enter the live session.
Ensure your computer, smartphone, or tablet is charged or plugged into a power source prior to the lesson.
Step 3: Set up your body
Wear something comfortable. You want clothing that is easy to move in but not too loose so we can easily make corrections to your movement.
---
Troubleshooting Tips
If you are having trouble accessing your zoom session please try the following:
Go to Zoom.us — Select 'Join a Meeting' — Enter meeting ID from your Zoom invitation (towards bottom of paragraph)
Make sure you have the most updated browser (Firefox or Chrome are best)
Plug your computer into a power source
If using WiFi, make sure other in-home devices are shut off – if someone else is streaming videos during your call this might affect your experience.
Shut down all other programs, downloads or streaming on your computer
Place your laptop as close to the wireless router as possible or plug your computer directly into an ethernet cable rather than using WiFi
Restart your computer, smartphone, or tablet
Additional Tips
Computer: When you get your Zoom link from your instructor, simply click the link 5 minutes before your call and you will be prompted to download a plugin if you have never used Zoom. You may also join a call by going to Zoom.us, selecting 'Find A Meeting' and entering the 9 digit meeting ID (in your Zoom invite).
Tablet or Smartphone: In order to join your Zoom call from your tablet or smartphone, you will first need to download the Zoom app in the app store.