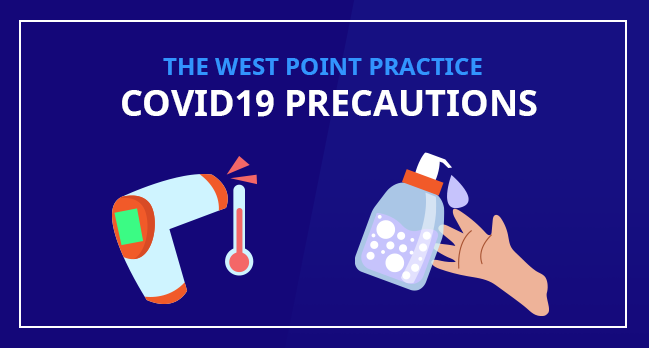 Keeping you safe for face to face physiotherapy sessions during this pandemic 
We just wanted to let you know the precautions we are taking at The West Point Practice to ensure that we are COVID-secure:
Clinic precautions:
W

e have extended the physiotherapy appointment times from 45 minutes to one hour. This allows us time to clean

,

disinfect

and air

the

treatment

room

between appointments

.

Each patient's temperature

will be

taken and recorded on entering the physio clinic.

Each physiotherapists temperature is taken and recorded at the beginning of each clinic.

Should your physio feel unwell or be asked to self-isolate, your appointment will need to be rescheduled. We will endeavour to give you as much notice as possible.

Your physiotherapist will sanitise their hands with alcohol gel before and after your

session.

Your

physio

therapist

will wear a face mask throughout the consultation and also don full PE (

surgical

face mask, gloves, apron and face shield

/goggles

) during examination and treatment.

R

eceipts and exercises

will be paperless and emailed where possible.
What we are asking of our clients:
Please

try to arrive on time for their physio appointment

rathe

r

than

early

to limit patient crossover in the waiting area

.

If you feel unwell, please let us know

as soon as you can

and do not attend.

C

ontact

u

s via phone or email and we will be happy to

re

arrange your physio

appointment

.

If it is your first time in clinic during the pandemic, we ask that you complete a consent form which will be emailed in the 24h preceding your appointment.

For subsequent appointments, please complete

a symptom check form

which will be emailed t

o ensure th

at

you

are

symptom free

when

attending

you

r physiotherapy session.

Please make sure that you wear a facemask while

i

n clinic

unless

you are

medically exempt.

We ask that all payments

made are

contactless

where possible

or

electronically via stripe

or BACs

.

If you have been abroad, please en

s

ure your appointment is more than two weeks after your return to the country.
The above changes have been implemented over the past few months as a result of the pandemic. We are slowly getting used to the new normal and have received positive feedback from clients on how safe they feel during their treatment sessions. As always, if you have any questions do not hesitate to contact either Mayu or David.